Diabetes is a common health issue among many Indians today. Over the years, there is an increase in the number of diabetes cases that has been noticed. The fifth edition of Diabetes Atlas, published in 2011 by the International Diabetes Federation (IDF), shows that India is the second among the global countries with people suffering from diabetes.
According to estimated figures, around 6.13 crore people in India have diabetes. It is also awful to note that out of every 10 Indians 1 Indian adults between 20-79 years is suffering from diabetes.
Statistics on diabetes in India are always frightening, as the number of diabetics in India grew from 1.9 crore in 1995 to 6.13 crore in 2011. According to the emerging trend it has been estimated that India would have an appalling 10 crore people with diabetes by 2030.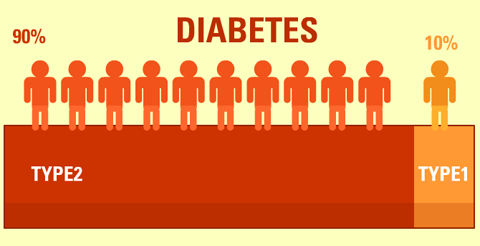 Studies show, surprisingly in India it is the educated and affluent urban group that is highly affected by diabetes than the poor, uneducated rural people.
Reasons:
Study also revealed that the reasons for the high prevalence of diabetes in India are genetic tendency as Indians are more prone to diabetes because of a greater genetic susceptibility. Urbanization is also one the reason because it minimizes the physical activity that leads to diabetes. People have started taking polished rice; increased in-take of fat, high calorie food, refined cereals, processed foods, etc which leads to diabetes. Obesity is also one of the main reasons.
Symptoms of diabetes:
➤

Frequent Urges to Urinate.
➤

Persistent Weakness/Tiredness.
➤

Fruity Smelling Breath.
➤

Excessive Thirst (which does not disappear following fluid consumption).
Cure:
Unlike other diseases, diabetes is also preventable. Leading a healthy lifestyle could effectively prevent diabetes. Early recognition, timely medication and change in living habits keep diabetes in control.
Remedies:
·

Taking half a teaspoon of cinnamon a day may help to prevent diabetes. Even soaking a cinnamon sticks in your tea, could also benefit non-diabetics who have blood sugar problem but are unaware of it.
·

➤

30 gram fenugreek seeds can be soaked in a glass of water at night and after 12 hours take it and grind it into a paste with the soaked water and drink it on a empty stomach.
·

➤

Eating up to 3 grapefruits a day has also been helpful.
·

➤

1 tablespoon of amla (Emblica officinalis) after removing the seeds extract the juice and mix with a cup of bitter gourd juice and take daily for 2months in a empty stomach.
·

➤

Gymnema Sylvestre a traditional ayurvedic herb the leaf of which is to be taken up to 4 grams per day.
·

➤

Indian blackberry seeds or Jamun seed powder (scientific name of Jamun is Eugenia jambolana or Syzygium cumini L and) is very good for diabetes. Take 1/4th teaspoon with 1 teaspoon honey for 50 days.
·

➤

Neem seeds daily 2 times a pinch. Taking a gram of neem leaf daily helps in diabetes.
Surprisingly, 25% of the rural population in the country is unaware of the term 'diabetes'. Creating awareness among the people about the prevalence of disease and educating them about symptoms to identify the disorder can help in fighting this disorder.
For which Dietkart has already taken an action and started a campaign 'Mission Diabetes-Bharat Chhodo Diabetes'. Under this campaign, Dietkart will make people aware of diabetes and its symptoms and also the cure.
click the above image to Visit Mission Diabetes Facebook Page
At Dietkart, our mission is to throw diabetes out of India. Dietkart.com is also offering medications for diabetics which are very effective and prevents diabetes.